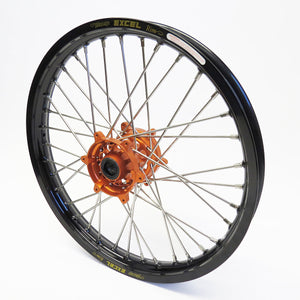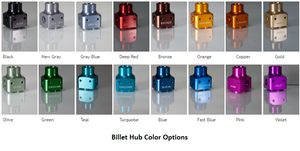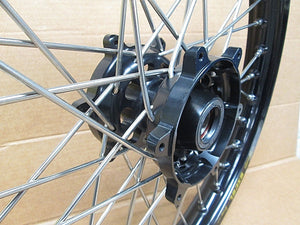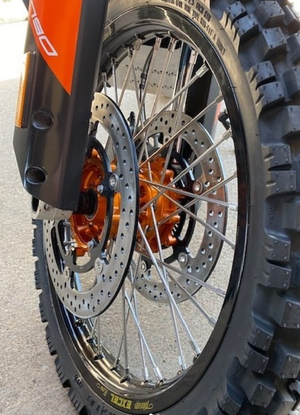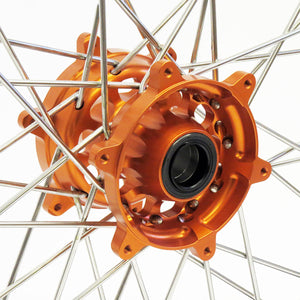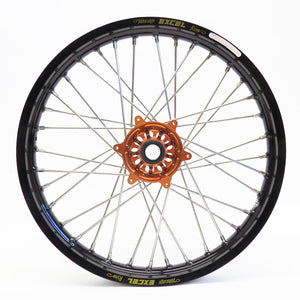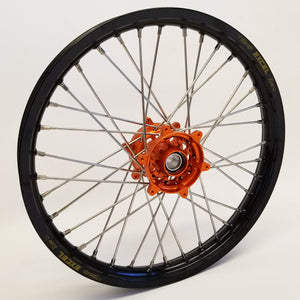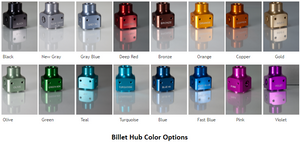 KTM 950/990 Front Wheel - 21x1.85" or 21x2.15"
Please allow for a 2-4 week build time
A 21" front Woody's Superlite Wheel for the KTM 950/990 ADV features either a black 21x1.85" or 21x2.15" Excel 7000 Series Rim Superlaced to Woody's Superlite Hub with heavy duty stainless steel spokes and nipples.
The narrower 21x1.85" fits the OEM 90/90-21 tire size the best, as it creates a more rounded profile. This pushes the sidewall of the tire out over the lips of the rim, adding rim protection
Only the 21x2.15" rim can be sealed for tubeless**
Our billet hub can be anodized any color of your choice for no extra cost (see options here)
• Excel 7000 Series 21x1.85" Black Front Rim
or
• Excel 7000 Series 21x2.15" Black Front Rim
• (+brake adapters for 790-1290)
• Superlite Billet Hub, Orange or Black
• Superlaced Custom with Heavy Duty Stainless Steel Spokes and Nipples
• Bearing & Seals, KTM or similar
The 21x1.85" narrow rim width offers greater rim protection than OEM and allows you to pick through more technical trails. The tall rim height allows for easy rolling over obstacles. The 21x1.85" rim is ideal for riding off-road and retains moderate on-road capabilities.

The 21x2.15" rim is also narrower than OEM for improved off-road capabilities and better rim protection. The 21x2.15" rim is a great dual sport option with considerable on-road handling and comes sealed for tubeless with the Outex system.

Orange or black colored hubs are available for 790, 890, 950, 990, 1090, 1190 & 1290 KTM bikes. Brake adapters are only required on the 790, 890, 1090, 1190 and 1290 and can be anodized orange or black as well. Please specify your color choice.
---