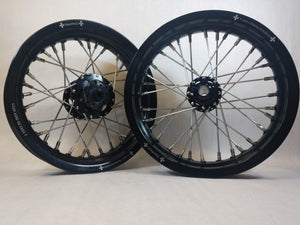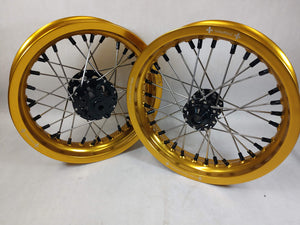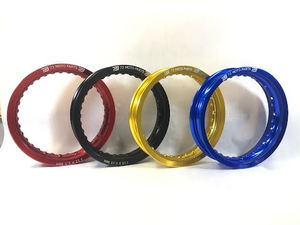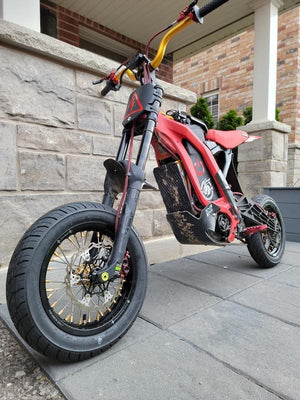 Ready to Ship
Surron, Segway, & Talaria - Complete Wheel Set 12/12 Mini Moto Set-up
$988.42 USD $1,197.85 USD
Are you wanting to rip your Sur Ron or Talaria around town or take it out on the track? These 12 inch wheels are a great option for you to do so. 
Built with 12x2.15" front & 12x2.50" rear aluminum rims (Black, Red, Blue, or Gold)
Custom laced to a Woody's billet hub (Black)
Heavy duty stainless spokes and billet aluminum nipples. Woody's Wheels are built to last, with minimal to no maintenance, and are much stronger than OEM. 
If you want more custom options (like hub color), or to add accessories (like tires, rotors, and/or sprocket) please contact us directly for your custom quote.  
Note: If you have the RST or FastAce Fork, you will need a 90 width front tire.
• Excel 7000 Series 21x1.60" Rim
or
• Excel One/Rex 21x1.60" Rim
• Woody's Billet Aluminum Hub
• Custom Laced with Supersized Stainless Steel Spokes and Aluminum Nipples
The larger 21" front wheel is designed to roll over obstacles with ease, allowing you to take on tougher terrain. Your front wheel receives a significant strength upgrade over OEM courtesy of Excel's Takasago or One/Rex Rim. The Takasago 7000 Series Rim is the stronger rim option, constructed from super tough 7000 series aluminum. The One/Rex Rim is no slouch and the weight difference is insignificant. Constructed from an economical aluminum alloy, the One/Rex Rim is also designed for off-road riding.
The narrow 1.60" rim width pulls in the tire which creates a rounded tire profile and better protects your rim from obstacles. We recommend a 80/100 tire on the 21x1.60 wheel.
Each Woody's billet aluminum hub is Supersized; custom drilled to fit larger gauge spokes and nipples for increased strength and durability. If you're planning to push the boundaries of your Sur Ron or Segway electric motorcycle, this wheel will take you there and back!
---